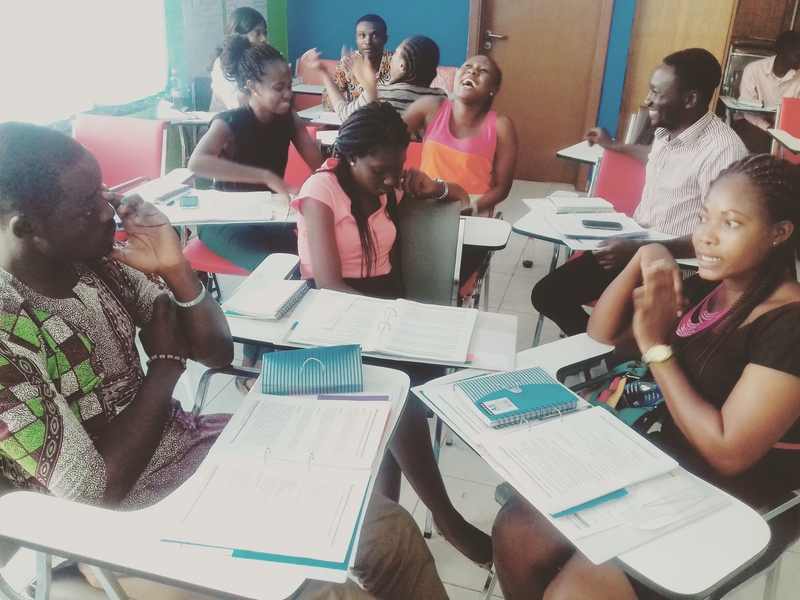 Training Is Underway at EQWIP HUBs Accra!
by Eryn Kim in Employment, 27 May 2016, 06:22 AM
(This post was written by the Sustainable Partnerships Advisor, Bonnie Boyd.)

We have been pleased to welcome our first set of participants who are completing the Foundational training program at EQWIP HUBs Accra. The HUB has been busy with preparations and the energy of new faces!

As I type, the hub is full of participants who are taking part in an exercise, just one of many activities in the program that encourage active participation and sharing within the hub space.

So, it's Wednesday afternoon… what exactly is going on at EQWIP HUBs Accra, you might ask?

One of today's topics is communication. The Training Manager, Benjamin, is leading the session and engaging participants in a conversation about effective communication between individuals.

If we look more closely at communication, what does that process really mean and who are the important players? How can we work to ensure that it is effective, and that the message is received and understood? What are some of the channels that we use for communication, and what are some of the things about ourselves that we should consider when we are communicating with others?

These are some of the topics that we are exploring today, through the group discussion. Furthermore, we will look at what some of the implications of the choices we make for communication might be.

But, at EQWIP HUBs we don't only talk about these things, we will also practice them!

The next step will be to act out a variety of situations and look critically at the role that each person might play in communication in some given scenarios. This adds a practical element, and allows participants to work together in different settings and to participate each day.

Different facets of communication will be explored over the next few sessions, and each topic includes hands-on activities to support the information that is given.

At the end of each session, a debrief activity allows participants the opportunity to share their feedback on the activities of the day. In this way, we can grow to better address the needs of the participants and work to change or alter activities if needed.